Measure What Matters: OKRs: The Simple Idea that Drives 10x Growth (2022)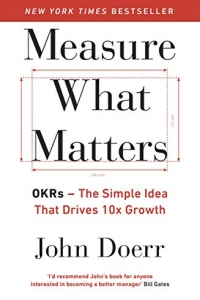 ePUB
Auteur:

John Doerr

Editeur:

‎ Penguin; 1er édition (24 avril 2018)

Pages:

299 pages

Langue:

Français
Description du livre Measure What Matters: OKRs: The Simple Idea that Drives 10x Growth (2022):
INSTANT NEW YORK TIMES BESTSELLER

'For anyone interested in becoming a better manager' - Bill Gates

--------

Discover the revolutionary movement behind the explosive growth of Intel, Google, Amazon and Uber.

In 1999, legendary venture capitalist John Doerr invested nearly $12 million in a small 40-person startup that had amazing technology, entrepreneurial energy and sky-high ambitions, but no real business plan. Doerr introduced the founders to his system of Objectives and Key Results (OKRs) and, with those principles at the foundation of their management, the startup grew at an exponential rate. Today, that same startup - Google - has more than 70,000 employees with a market cap exceeding $600 billion.

Doerr has introduced OKRs to more than fifty companies, helping tech giants and charities exceed all expectations. In the OKR model, objectives define what we seek to achieve and key results are how those top­ priority goals will be attained. They focus effort, foster coordination and enhance workplace satisfaction. For the first time in Measure What Matters, Doerr shares a broad range of first-person, behind-the-scenes case studies, with narrators including Bono and Bill Gates, to demonstrate the agility and explosive growth that OKRs have spurred at so many great organizations.

With a foreword by Larry Page, and contributions from Bono and Bill Gates, this book will show you how to collect timely, relevant data to track progress - to measure what matters. It will help any organization or team aim high, move fast, and excel.

--------

'Management magic....Measure What Matters is a must read for anyone motivated to improve their organization' - Former Vice President Al Gore, chairman of the Climate Reality Project

'Measure What Matters shows how any organization or team can aim high, move fast, and excel' - Sheryl Sandberg, Facebook COO

'Measure What Matters deserves to be fully embraced by every person responsible for performance in any walk of life' - Jim Collins, author of Good to Great

--------

***SPEED & SCALE - THE NEW ENVIRONMENTAL GUIDE TO SAVE THE PLANET FROM BESTSELLING AUTHOR AND VENTURE CAPITALIST JOHN DOERR - NOW AVAILABLE***
Commentaires
Les OKRs (Objectives, Key Results) sont un moyen d'améliorer le management par objectifs. Basé sur une proche plus agile, avec plus de feedbacks, ce livre explique bien la différence avec le management par objectifs tel que chacun le connait. La seconde partie du livre est dédiée aux réunions à mettre en place avec chaque collaborateur pour assurer plus de suivi et de coaching avec chacun.
Tous les concepts sont aussi illustrés par le récit d'entrepreneurs qui expliquent comment ils ont déployé ce nouveau système dans leur entreprise. On pourra regretter certaines longueurs quelques fois.
Un livre qui conviendra à tous les managers qui veulent mettre en place un système pour atteindre leurs objectifs.
5/5