Building a Second Brain (2022)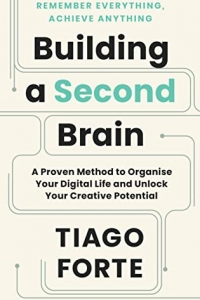 ePUB
Auteur:

Tiago Forte

Editeur:

Profile Books (14 juin 2022)

Pages:

272 pages

Langue:

Français
Description du livre Building a Second Brain (2022):
A WALL STREET JOURNAL BESTSELLER
A FINANCIAL TIMES BUSINESS BOOK OF THE MONTH
A FAST COMPANY TOP SUMMER PICK

'Well-written, cogent and useful manual' - David Allen, author of Getting Things Done
'Forte's ideas really work.' - Seth Godin, author of This is Marketing
'Completely changed my life' - Ali Abdaal, YouTuber and Entrepreneur
'A survival guide to managing the complexities of modern life' - Chris Guillebeau, author of The $100 Startup

Discover the full potential of your ideas and make powerful, meaningful improvements in your work and life by Building a Second Brain.

For the first time in history, we have instantaneous access to the world's knowledge. There has never been a better time to learn, to create and to improve ourselves. Yet, rather than being empowered by this information, we're often overwhelmed, paralysed by believing we'll never know or remember enough.

This eye-opening and accessible guide shows how you can easily create your own personal system for knowledge management, otherwise known as a Second Brain. A trusted and organised digital repository of your most valued ideas, notes and creative work, a Second Brain gives you the confidence to tackle your most important projects and ambitious goals. From identifying good ideas, to organising your thoughts, to retrieving everything swiftly and easily, it puts you back in control of your life and information.
Commentaires
I was already familiar with the concept of a second brain and I've been quietly following Tiago Forte for a while, so this information was not new. But the book gave me a couple of insights, and plenty of use cases I hadn't considered. Read it fast if you are familiar with the concept, read it slowly if you are not.
5/5