Remainders of the Day: More Diaries from The Bookshop, Wigtown (2022)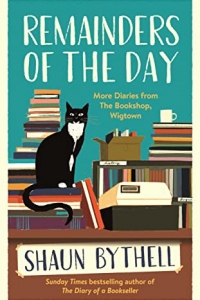 ePUB
Auteur:

Shaun Bythell

Editeur:

‎ Profile Books (1 septembre 2022)

Pages:

‎ 381 pages

Langue:

Français
Description du livre Remainders of the Day: More Diaries from The Bookshop, Wigtown (2022):
The Bookshop in Wigtown is a bookworm's idyll - with thousands of books across nearly a mile of shelves, a real log fire, and Captain, the bookshop cat. You'd think after twenty years, owner Shaun Bythell would be used to the customers by now.

Don't get him wrong - there are some good ones among the antiquarian erotica-hunters, die-hard Arthurians, people who confuse bookshops for libraries and the toddlers just looking for a nice cosy corner in which to wee. He's sure there are. There must be some good ones, right?

Filled with the pernickety warmth and humour that has touched readers around the world, stuffed with literary treasures, hidden gems and incunabula, Remainders of the Day is Shaun Bythell's latest entry in his bestselling diary series.
Commentaires
I loved this book and really enjoy Shaun's worldview and his observations on his customers and Wigtown's locals. I sincerely hope he's already working on his next book as I feel bereft when I finish each one. I particularly enjoyed the four over-familiar Yorkshire pensioners as, being from Yorkshire myself, I realise that is often how us Yorkshire people come across when we leave the county and I loved the scenario when Shaun describes abandoning Sandy to them. Thanks for the highly enjoyable read Shaun and I hope you keep writing these books for many years to come.
5/5